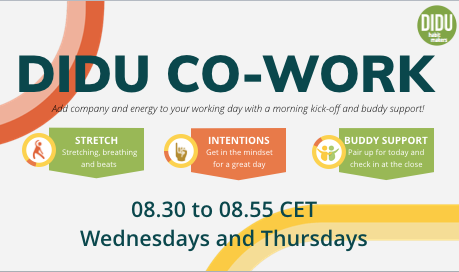 Ever felt like running your own business, or working from home, was just a little weeeeny bit lonesome?
Maybe DIDU CO-WORK is something for you. DIDU has its offices in an office share, and it was always great to meet other people at the start of the working day. Now, we're not really there so much. 🙁
With DIDU CO-WORK, the day starts with an 08:30 kick-off on Zoom. We're led in breathing, stretching and beats to get the pulse going. An Intentions Exercise helps establish a positive mindset for the day ahead. And, you get a buddy for the day, who you'll talk to about the day ahead, and then reflect with at the day's end.
Click here to register for the next DIDU CO-WORK!